Backed "Xinjiang cotton" |" from "made in China" to "the Chinese standard"
Views:1 Author:Site Editor Publish Time: 2021-04-25 Origin:Site
"Xinjiang Cotton", "H&M" and "BCI Swiss Better Cotton Iniciative" are hot topics recently. From the official voice to the brand attitude, and then to the individual comments, we can see the correct attitude of the Chinese nation's expression.
The Swiss Better Cotton Initiative (BCI) is a non-profit international membership organization that sets standards for Cotton quality, and BCI's certification has become synonymous with the Cotton "standard". "Xinjiang cotton" is recognized by the Chinese cotton standard, but it is marked as "unqualified" by the BIC standard, which denies "Xinjiang cotton" and "China standard".
With the development of China's social economy, China is changing its role in the world trade pattern from "Made in China" to "China Standard".
The standard assessment affects 80% of world trade, and the word "standard" may sound a little "unemotional" to the average person. But when it comes to "ISO9000 quality management system", "3C certification", in a sense, these certification standards are people confirm product quality and safety performance of the "assurance", guiding people's economic behavior. Standards matter. In the process of "going global" of Chinese enterprises, the output of "Chinese standards" has always been regarded as the highest pursuit, thus it can be seen that the development of "Chinese standards" is the top priority!
THT was founded in 1986. After more than 30 years of development, it has become a standard, professional and efficient service provider of plate heat exchanger and integrated heat exchange unit.
In 1992, BB unequal section plate heat exchanger was developed, and the patent certificate of utility model was obtained, filling the domestic gap 
In 2001, it obtained the quality system certification of Classification Society.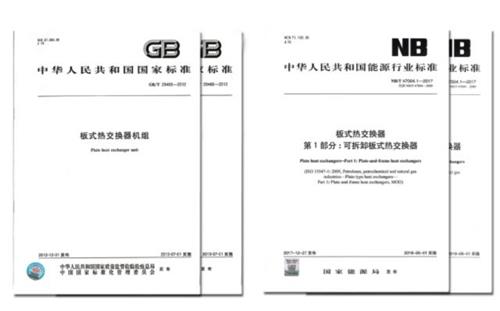 In 2002, obtained the safety registration certificate of plate heat exchanger products A1-A5, B2-B3, and reached the grade B3 in 2012.
In 2011, we obtained the certification of quality, health and environment standards.
In 2012, it obtained the design and manufacturing license for civil nuclear safety;
in 2019 Obtained energy-saving registration certificate of plate heat exchanger (grade 1-3)
From 2019 to 2020, it has been awarded as "Enterprise Standard Leader" by China Institute of Standardization and National Heat Exchange Product Quality Supervision and Inspection Center for two consecutive years.
THT is one of the drafting units for the plate type heat exchange unit, the plate heat exchanger, the welded plate heat exchanger, absorption heat exchangers and other national standards or industry standards. A total of more than 400 enterprise related standards have been formulated. In uphold to provide high quality products and services for the public, at the same time expect through constant efforts and stick to their own, together with the whole heat exchanger industry from "made in China" to "China standard" rapid development.